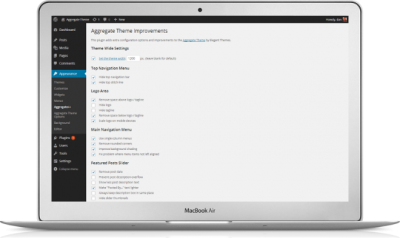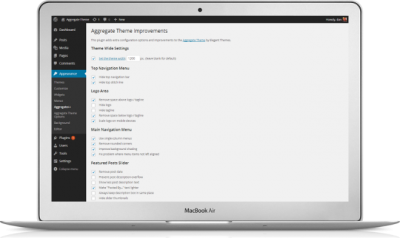 Make Your Aggregate Theme Better
Our easy-to-use WordPress Plugin adds 25+ extra configuration options to your Aggregate Theme so you can take control and finally make it look the way you want it to.
Now just 5.49 USD (normally $8.99)
"Your plugin is wonderful, it's the only plugin that I paid for, and I'm really happy to have it, it's a really good job, thank you" – Valentina, Italy.
Bug Fixes

Aggregate is a slick, well written theme – but it's not perfect. There are a number of bugs in the theme which can detract from your users' enjoyment of your blog. This plugin provides one-click fixes for some common Aggregate Theme bugs.

Lots of Options

Want to do something to your Aggregate theme, but can't find an option in the ePanel? Our plugin adds many of the most requested configuration options to Aggregate. Hide things, resize things, change colors, change font sizes – it's all in there.

Great Support

If you can't find the option you want in the plugin let us know and we'll add it. And if you're not totally satisfied we'll give you your money back, no questions asked.