Display your Recipes in Divi, Beautifully
Introducing the Divi Recipe Module, the perfect plugin for adding recipes to your Divi pages. This all-in-one Divi module allows you to display recipes the way you want to, making it simpler than ever to share your culinary creations with the world. Whether you're a professional chef showcasing your signature dishes or a home cook sharing beloved family recipes, the Divi recipe module brings a new level of functionality and elegance to your food-centered content. 
Adds a Divi Recipe Module
With Divi Recipe Module, you will get a new "Recipe" module in the Divi Builder. This module allows you to easily add, customize, and showcase your favorite recipes on your website. It includes fields for ingredients, preparation steps, cooking time, and nutritional information, all in an attractive, user-friendly format.
Unlike the standard Divi text or Image modules, which require manual styling and formatting for every recipe, the Divi Recipe Module provides a dedicated, feature-rich platform for your culinary content. It is especially handy for food bloggers, chefs, and any food enthusiast interested in sharing their gastronomic explorations with the world.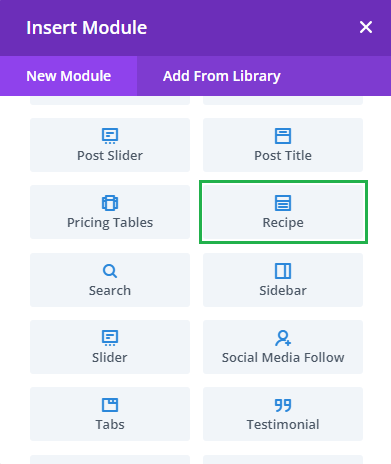 Streamlines your Recipe Creation
When managing a food-centered blog or a restaurant website, putting your best dishes on display is essential. With the Divi Recipe Module, content creation becomes significantly streamlined, allowing you to focus on what truly matters – the art of crafting your unique dishes.
The recipe module provides an easy-to-use interface that empowers you to create attractive displays for your culinary creations. With intuitive fields for title, ingredients, description, and method, even the most complex recipes can be succinctly communicated, enhancing your audience's reading and cooking experience.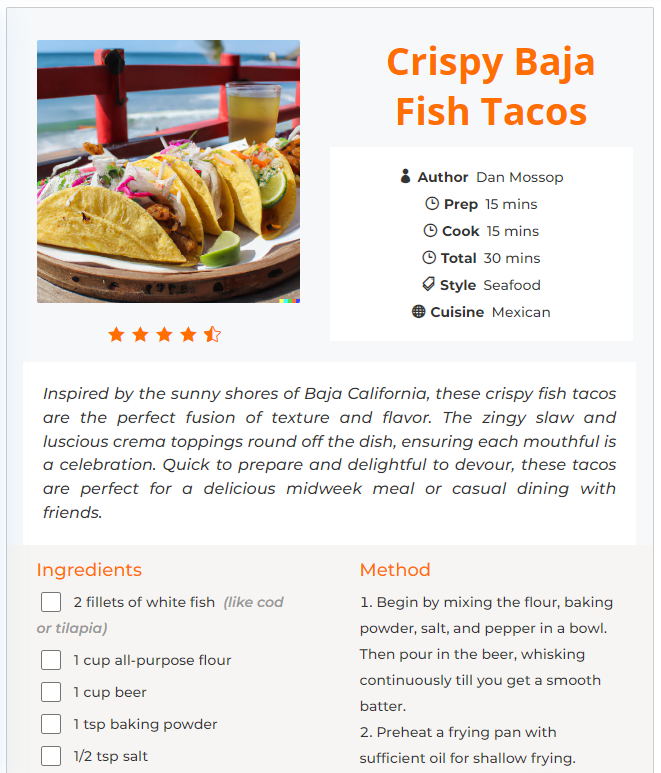 Why settle for generic design when you can tailor the appearance of your recipes in a way that matches your unique style and brand personality?
Each element within the module can be personalized according to your own aesthetic. With a simple change, you can make your recipe titles bold and vibrant or choose a minimalist, subtle text color for your ingredients list.
You can also create distinct looks for different types of recipes. Perhaps you'd like a warm, earthy color scheme for your grandma's famous stew, or a crisp, clean design for a refreshing summer salad. The flexibility is entirely in your hands.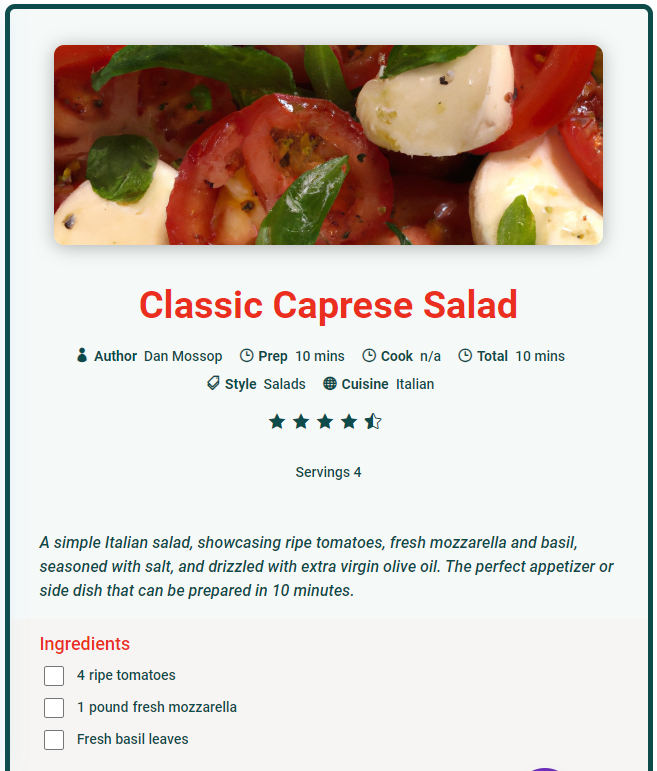 The Divi Recipe Module seamlessly integrates with your existing Divi site and workflow.
Easily build recipes using the familiar Divi module settings interface. Everything is there in one place, right where you need it.
The Divi Recipe Module lets you leverage the full power and flexibility of Divi's modular design philosophy, using features such as the Divi Library, dynamic content and style presets to streamline your recipe design and management.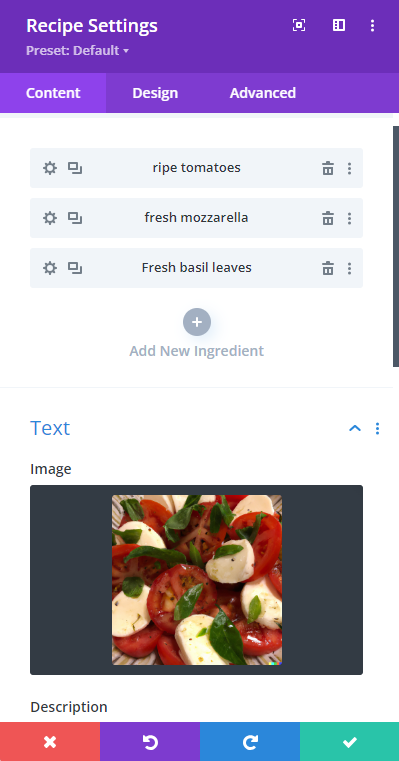 Start using the Divi Recipe Module today and showcase your recipes in style!