The Divi theme lets you add social icons to the header and/or footer. However, the range of icons on offer is rather limited. Divi Booster includes a feature which vastly increases the choice of icons.
Adding Social Icons to the Header / Footer in Divi Booster
To use it, first enable social icons in the header or footer.
Then go to:
Divi > Theme Customizer > Divi Booster > Social Media Icons
From there you can add icons and set their target URLs, like so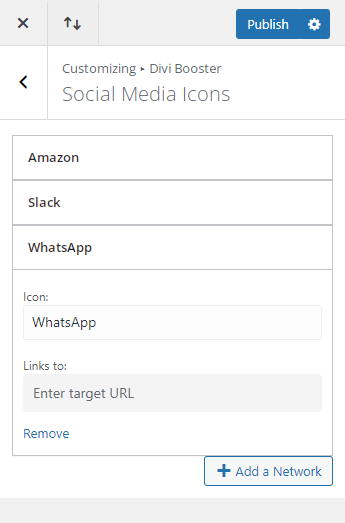 Publish the changes and then when you view your site you'll see the icons added to either the header, or footer, alongside any of the built-in icons you have configured, like so:


Sorting the Social Media Icons
The order can be changed by dragging and dropping the icon boxes. The icons you add in Divi Booster will be placed after any of the built-in Divi icons you have set up (Facebook, Twitter, etc). If you need to sort these standard icons too, remove the built-in ones and instead add the equivalent icon from from within the Divi Booster setting. So, for example, if you wanted to have Facebook, then TikTok, then Twitter, you'd set the icons up like so: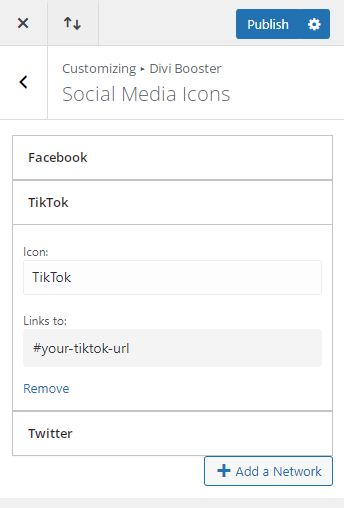 Do the Social Icons Work in Extra?
Yes, the icons also work in Extra. Here's an example of how they look in the header and footer:


List of Social Icons added by Divi Booster
Here's a list of the social icons currently added by Divi Booster. If you need something not listed here, please let me know in the comments.
8tracks
500px
Adobe Portfolio
Airbnb
Alibaba
Aliexpress
Alliance
Amazon
Amplement
Android
AngelList
Angie's List
Apple
App Store
ArtStation
Ask
Augment
Avvo
Baidu
Bale
Bandcamp
Battle.net
Beatport
beBee
Bebo
Behance
Bing
Bitbucket
BlackBerry
Blizzard
Blogger
Bloglovin'
Bonanza
BookBub
Booking
Buffer
Calendly
CD Baby
Chrome
Codepen
CodeRED
Coderwall
Collectorz
Craigslist
Crunchbase
Curse
Dailymotion
Debian
Deezer
Delicious
DeviantArt
Diablo
Digg
Discord
Disqus
DLive
Doodle
Douban
Draugiem.lv
Dribbble
Drupal
eBay
Eitaa
Elementary OS
Ello
Endomondo
Envato
Etsy
Eventbrite
Facebook
Facebook Messenger
FeedBurner
FilmFreeway
Filmweb
Firefox
Fiverr
Flattr
Flickr
Flipboard
Formulr
Forrst
Foursquare
Freelancer
FriendFeed
Fundable
Fyuse
GameFor
Game Jolt
GameWisp
Ghost
GitHub
GitLab
Gitter
GNOME
Goodreads
Google
Google Calendar
Google Groups
Google Hangouts
Google Maps
Google Photos
Google Play
Google Play Music
Google Scholar
GoToMeeting
Guru
Gust
Hacker News
HackerOne
HackerRank
Hearthstone
Hellocoton
Heroes of the Storm
HomeAdvisor
Homes
homify
Horde
houzz
ICQ
Identica
IMDb
Indie DB
Instagram
Instructables
Internet
InVision
Issuu
iStock
itch.io
iTunes
Jamendo
Keybase
Kobo
Komoot
Lanyrd
Last.fm
Letterboxd
LINE
Linkedin
Linktree
LiveJournal
Livemaster
LogMeIn
Loomly
Lyft
macOS
Mail
Mail.ru
Mastodon
Medium
Meetup
Metapop
Michelin Guide
Microsoft
Mix
Mixcloud
Mixer
Mobcrush
Mod DB
Model Mayhem
Mozilla Persona
Mumble
MyAnimeList
Myspace
Napster
Natgeo
Naver
NewsVine
Nextdoor
Niconico
Nintendo Network
npm
Odnoklassniki
OpenAI Gym
OpenID
OpenStreetMap
Opera
Origin
Outlook
Overwatch
Pandora
Patreon
Paypal
Periscope
Pinterest
Pixiv
Player.me
PlayStation
Pocket
Qobuz
QQ
Quora
RaidCall
Ravelry
Realtor
Redbubble
Reddit
Redfin
Remote
Renren
ResearchGate
Resident Advisor
ReverbNation
RSS
Seedrs
SeenThis
SharePoint
ShareThis
Shopify
Sina Weibo
Sketchfab
Skype
Slack
SlideShare
Smashcast
Smashwords
SmugMug
Snapchat
Society6
Songkick
Soroush
SoundCloud
SPIP
Splice
Spotify
Spreadshirt
Squarespace
Stack Exchange
Stack Overflow
Stage 32
Starcraft
StayFriends
Steam
Stitcher
Storehouse
Strava
StreamJar
Swarm
TeamSpeak
TeamViewer
Technorati
Telegram
Threads
Threema
Tidal
TikTok
Tinder
ToneDen
Toptal
Torial
Traxsource
Trello
TripAdvisor
Tripit
triplej
Trulia
Tumblr
TuneIn
Twitch
Twitter
Uber
Ubuntu
Udemy
Unsplash
Upwork
Ventrilo
Viadeo
Viber
ViewBug
Vimeo
Vine
VKontakte
VSCO
Warcraft
WeChat
What3words
WhatsApp
Wickr
Wikipedia
Windguru
Windows
Wix
WordPress
Wykop
X
Xbox
Xing
Yahoo!
Yammer
Yandex
Yelp
Younow
YouTube
Youtube Gaming
Zapier
Zazzle
Zerply
Zillow
Zomato
Zoom
Zynga