Divi LearnDash Kit adds new Divi modules for displaying LearnDash components within a Divi Builder layout. One of these modules is the LearnDash Course List module. This post gives an overview of the module and its options.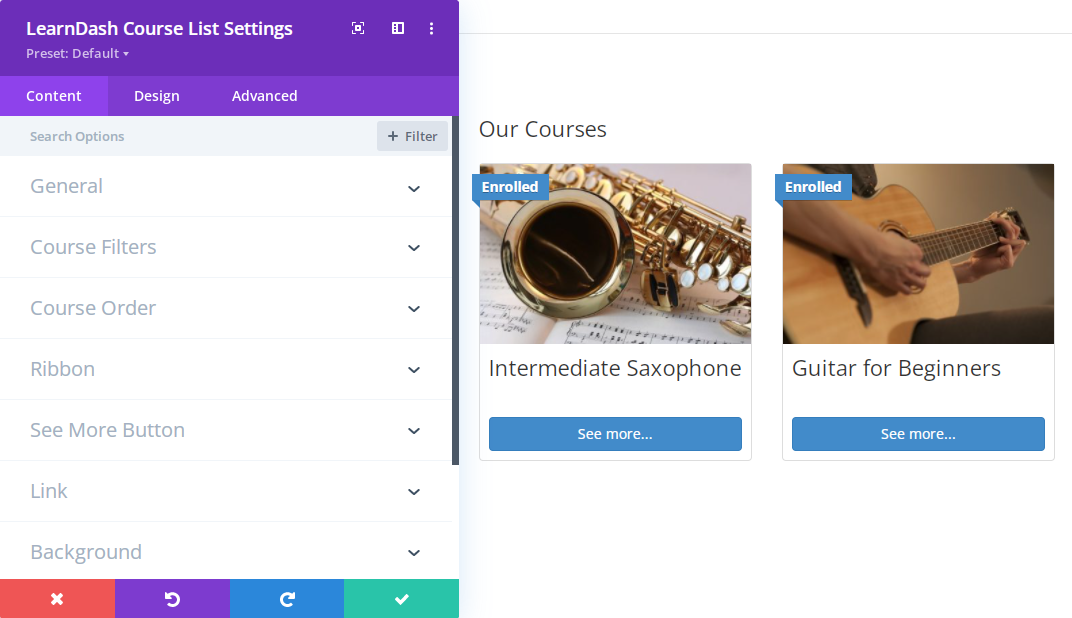 The module displays a list of courses and supports the Course Grid Add-on. In addition to standard Divi module fields (backgrounds, etc), it includes the following options:
Content Tab
General
Title –

Input a title for the module.

Num Courses – The max number of courses to display
Course Grid Addon Columns – Number of columns to show when using the course grid addon.
Category Selector – Show a category dropdown menu
Show Thumbnail – Whether to show the thumbnail image or not.
Show Description – Whether to show the course grid short description or not.
Course Filters
Current User – Show current user's courses.
Course Category – Show courses in a given course category
WordPress Category – Show courses in a given WordPress category
Course Tag – Show courses with given course tag
WordPress Tag – Show courses with given WordPress tag
Course Order
Course Order – Choose the order of courses in the user profile:
Course Order By – Choose the field to order courses by:

ID
Title
Published Date
Modified Date
Random
Ribbon
Show Ribbon – Whether to show the status ribbon or not.
Default Ribbon Text
Currency Symbol – Change the currency symbol shown when the price is displayed in the ribbon.
See More Button
See More Button Text – Use this field to change the default "See More…" button text
Design Tab
General 
Always Start Description on New Line – When not using the Course Grid Addon, content will flow around small featured images. use this to force the content to start on a new line.
Items
Item Background Color – set the background color on each of the course grid items
Item Border Options – control the look of the border which surrounds the individual courses in the list
Title Text
Title Font Options – Adjust the font settings (size, color, etc) of the titles
Ribbon
Ribbon Background Color – Set the background on the enrollment status ribbon
Ribbon Font Options – Adjust the font settings (size, color, etc) of the ribbon
See More Button
See More Button Style Options – Adjust the appearance of the See More Button in individual course items
Advanced Tab
Custom CSS
Item Titles – Add CSS to target the individual course titles