Enable the Divi Builder on LearnDash Pages
Want to use the powerful Divi Builder to layout your LearnDash pages? As soon as the plugin is installed you'll be able to start using the Divi Builder to design your LearnDash courses, lessons, quizzes, topics, certificates and groups. No configuration required!
Once installed, you can easily insert any of the standard Divi Builder modules into your LearnDash pages. Easily add text, images, sliders, CTA buttons, contact forms, product listings and more.
Take control of your layouts using the Divi Builder sections, rows and columns, to get the layout that's right for you. Use the Divi Builder global modules and library features to efficiently reuse content throughout your site – no more repeating yourself.
Works with and requires Divi, Extra or the Divi Builder plugin. Also requires the LearnDash plugin. These are sold separately.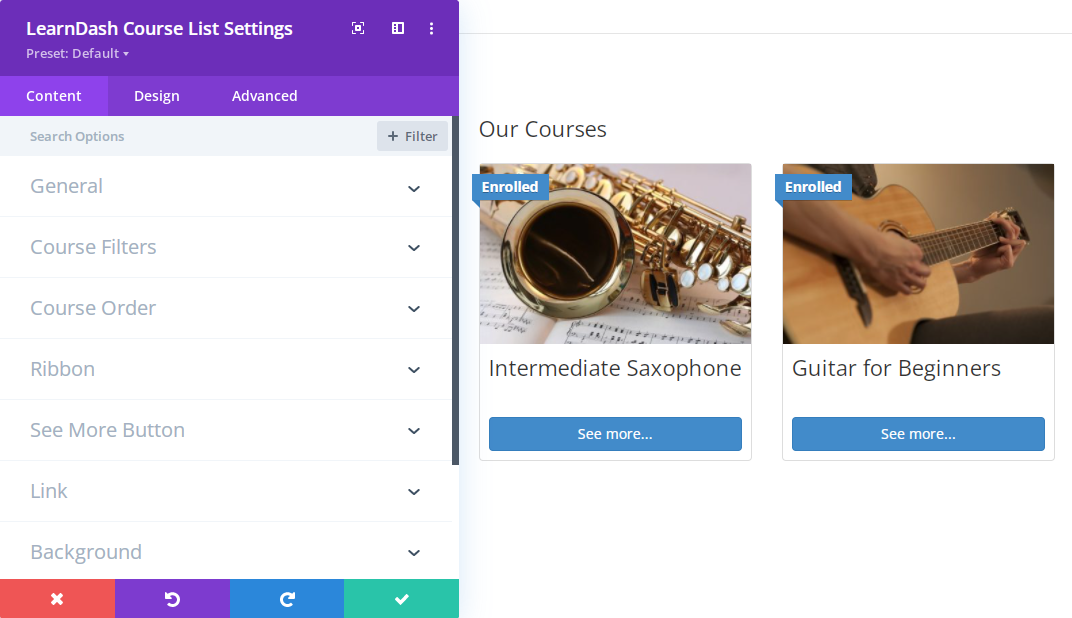 Custom Modules made for LearnDash
The plugin turns many of the LearnDash shortcodes into Divi Builder modules, so that you can easily add them into your layouts. Added modules include:
Profile – Displays the user's profile
Course List – Shows the list of courses
Lesson List – Shows list of lessons
Topic List – Shows the list of topics
Quiz List – Shows list of quizzes
Course Progress – Displays user's progress bar for the course
Course Info – Shows the courses for the user
User Course Points – Shows the earned course points for the user
Video – Displays the current LearnDash Video Progression video.
User Groups – Displays the list of groups users are assigned to as users or leaders
Payment Buttons – Shows the payment buttons on any page
Course Content – Displays the Course Content table
Course Expires Status – Displays the user course access expire date
Course Status – Displays the course status bar
Registration – Displays a registration form
The modules are visual builder compatible.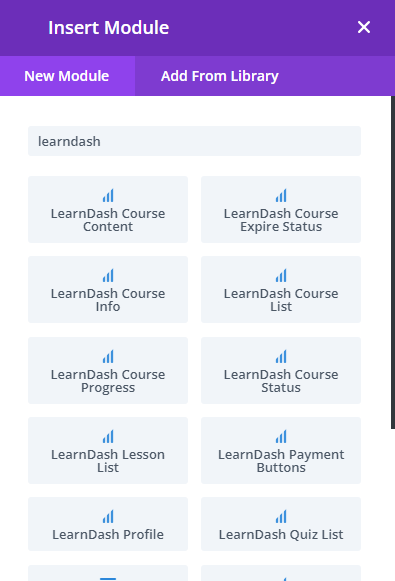 Is Divi Included?
No, Divi is not included. Divi LearnDash Kit requires the Divi Builder to be installed. Divi Builder is included in Divi, Extra or the Divi Builder plugin, so Divi LearnDash Kit will work with any of these.
Is LearnDash Included?
No, LearnDash is not included. You can purchase
LearnDash
here.
Divi LearnDash Kit requires LearnDash to be installed. LearnDash is used to set up the course structure in the admin area. Divi LearnDash Kit can then be used to display the courses, etc, within Divi Builder layouts / pages.
Does Divi LearnDash Kit work with other page builders?
Divi LearnDash Kit only works with the Divi Builder (included in
Divi
,
Extra
or the
Divi Builder plugin
). It is will not work in other page builders such as Elementor.
However, it is possible to run the Divi Builder on the same site as another page builder, by installing the Divi Builder plugin, This lets you choose which page builder you'd like to use on each page. It will then be possible to use Divi LearnDash Kit modules on any pages built with the Divi Builder. The Divi Builder plugin is included in a Divi subscription.