The Divi theme comes with a blog module which lets you display a list of posts. You can also show some details along with the posts, such as the author of the post and the categories the post is in. One thing the blog module doesn't allow you to display is the posts' tags. Here's how you can display post tags in the blog module.
First, here's an example of how a post typically displays in the blog module. As you can see tags are not displayed.

Show Tags in the Blog Module using Divi Booster
Divi Booster adds an option for enabling tags in blog modules. With Divi Booster enabled, you'll find the option in the blog module settings at:
Blog Settings > Content > Elements > Show Tags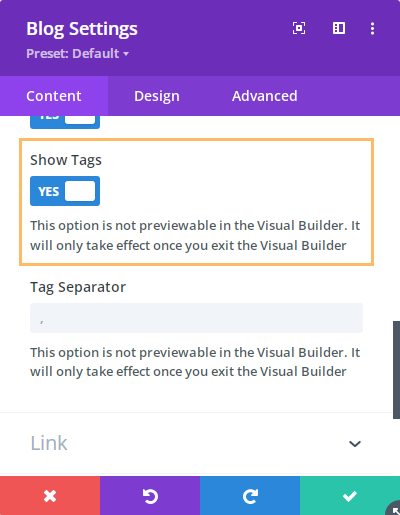 Enable the option to allow display of tags in the module.
You should now see tags displayed next to your blog module posts, like so:

The option is available in Divi Booster v3.5.5 upwards. It requires PHP 5.3 or higher.
Showing tags on other post types
The blog module now includes an option to display posts from any Post Type. As of v3.9.2, the "show tags" option supports tags on other Post Types, such as projects.
Change blog module tag separator
As of v4.0.3, it is possible to change the separator between tags (from the default comma). When "Show Tags" is enabled, you'll find the option to change the separator at:
Blog Settings > Content > Elements > Tag Separator
If you want have no separator, place a single space character in the Tag Separator field. When the field is fully empty (no space characters, for example), the default comma will be used.
Show Post Tags in the Blog Module using PHP Code
To display post tags in the blog module without using a plugin, first add the following PHP code to your site:
    // === Start: Enable tags in blog module ===
    add_filter('et_pb_blog_shortcode_output', 'dbc_add_blog_module_article_filter', 10, 3);

    function dbc_add_blog_module_article_filter($content, $render_slug, $module) {
        if (is_array($content)) { return $content; }
        if (!is_object($module) || !isset($module->props)) { return $content; }
        if (!is_string($content)) { return $content; }
        if (!isset($module->props['module_class']) || !is_string($module->props['module_class'])) { return $content; }
        if (strpos($module->props['module_class'], 'blog-with-tags') === false) { return $content; }
        return preg_replace_callback('/<article.*?<\/article>/s', 'dbc_apply_blog_module_article_filter', $content);
    }
    function dbc_apply_blog_module_article_filter($match) {
        if (!is_array($match) || !isset($match[0])) { return $match; }
        return apply_filters('dbc_blog_module_article', $match[0]);
    }

    add_filter('dbc_blog_module_article', 'dbc_blog_module_add_tags');

    function dbc_blog_module_add_tags($html) {
        $match = false;
        preg_match('/<article id="post-(\d*)"/', $html, $match);
        $id = isset($match[1])?intval($match[1]):false;
        if (!$id) { return $html; }
        $tags = get_the_tag_list('', ', ', '', $id);
        if (empty($tags)) { return $html; }
        if (strpos($html, '<p class="post-meta">') !== false) {
            $html = preg_replace('/(<p class="post-meta">.*?)(<\/p>)/s', '\\1 | '.$tags.'\\2', $html);
        } else {
            $html = preg_replace('/(<div class="post-content">)/s', '<p class="post-meta">'.$tags.'</p>\\1', $html);
        }
        return $html;
    }
    // === END: Enable tags in blog module ===
Now, you can add tags to a module by giving it the CSS class "blog-with-tags" at:
Blog Settings > Advanced > CSS Classes & ID > CSS Class
Like so: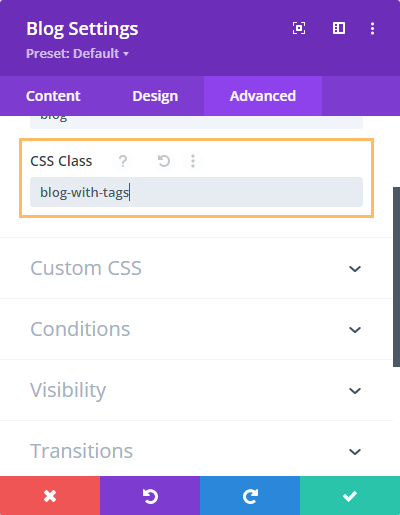 Change tag separator
To replace the comma with a different tag separator, you need to find and modify this line from the dbc_blog_module_add_tags function: $tags = get_the_tag_list(", ', ', ", $id);. The second parameter (', ') is the separator, and you can change it to your desired separator. So, if you want to change the separator to a "~" character, the modified line should would like this:
$tags = get_the_tag_list('', ' ~ ', '', $id);
Add a prefix to the list of tags
To include some text before the tag list, you can modify the same line of code as just above. The first parameter of the get_the_tag_list function is the one we'd add the prefix to. If you want to add "Tags: " as a prefix, for example, it would look like this:
$tags = get_the_tag_list('Tags: ', ', ', '', $id);