Here's a quick tip for positioning the slide text on individual slides in the Divi Theme's full width slider.
Horizontal Positioning
Divi doesn't let you directly set the horizontal positioning of the slide text, but it's position can be controlled in a limited way using the text alignment option at:
Slide Settings > Design > Text > Text Alignment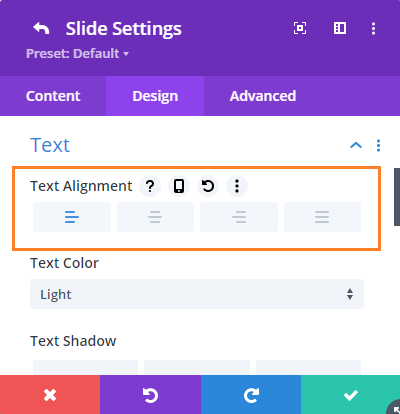 This lets you left, center, or right align the text.
If your text is long it will still fill the full width of the slider, so you might also want to limit the text width to ensure that it stays in the area (left / center / right) of the slider defined by the alignment setting. You can limit the width by entering a width in:
Slide Settings > Advanced > Custom CSS > Slide Description
Like so: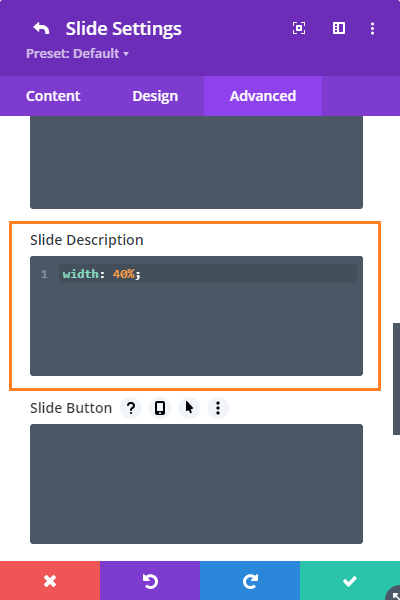 Vertical Positioning
Controlling the vertical alignment, especially to top-align the text is slightly trickier. We can do this by changing the top and bottom padding of the slide description. Normally there is a top and bottom padding of 16%, for a total vertical padding of 32%. We can move the text up by reducing the top padding, but need to correspondingly increase the bottom padding to keep 32% padding. So for example, if we set a top padding of 5%, we need to increase the bottom padding to 27% to balance it out (5%+27% = 32%).
This padding can be specified in:
Slide Settings > Advanced > Custom CSS > Slide Description
Like so: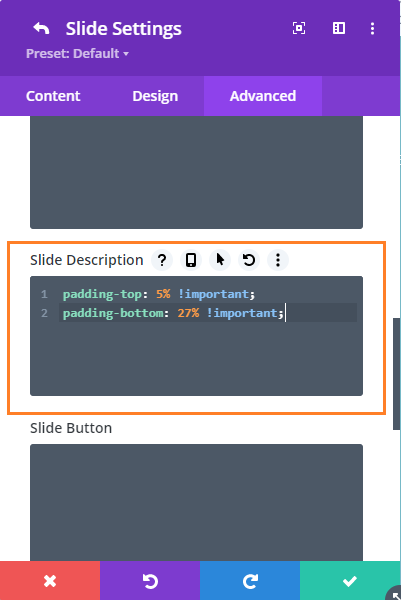 Here's the copy-and-pasteable version:
padding-top: 5% !important; 
padding-bottom: 27% !important;