When you first try to update the Divi Theme, you may receive the following error:
"An error occurred while updating Divi: Before you can receive product updates, you must first authenticate your Elegant Themes subscription. To do this, you need to enter both your Elegant Themes Username and your Elegant Themes API Key into the Updates Tab in your theme and plugin settings. To locate your API Key, log in to your Elegant Themes account and navigate to the Account > API Key page. Learn more here. If you still get this message, please make sure that your Username and API Key have been entered correctly"
The error indicates that you need to obtain and enter your username and "API" key (i.e. license key) in the Divi theme options area to enable updates.
Obtaining a Divi Username / API Key
You can obtain your username / API key from your Elegant Themes account.
If you don't yet have an Elegant Themes account, you can get one by purchasing a copy of Divi.
Alternatively, if you believe you have an existing account, but have lost access to it, you can contact Elegant Themes. Please note that Divi Booster (i.e. the site you're currently on) produces third-party Divi plugins and is not associated with Elegant Themes. As such, we can't help you gain access to an existing Elegant Themes account.
Once you have access to an Elegant Themes account:
1. Go to the "Accounts > API" area (logging in if you haven't already)
2. Now you'll find your username and API key in the "Your Username" and "Your API Keys" sections.
Entering your Divi Username / API Key
Now that you have your username / API Key, go into your own site and from the WordPress Dashboard, browse to "Divi > Theme Options > Updates.
Enter your username and API key here and click "Save Changes"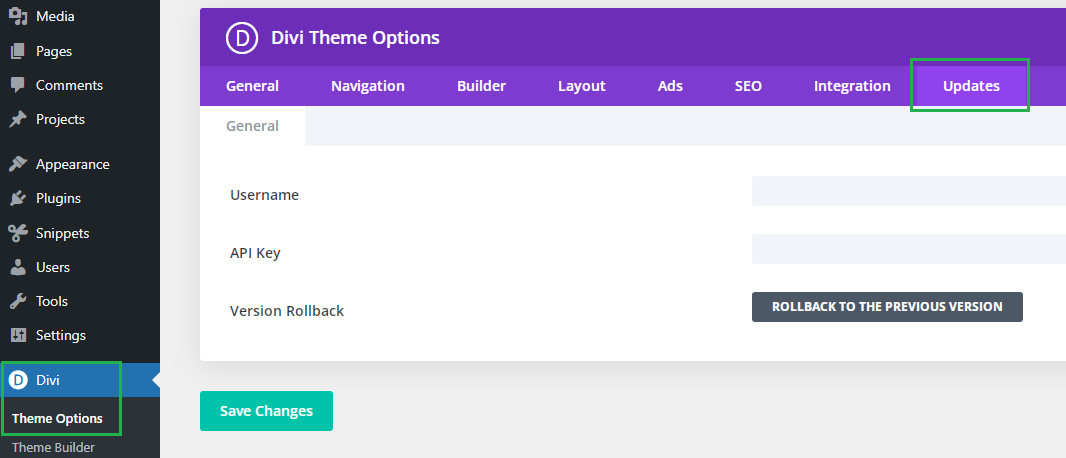 Once saved, you should be able to update Divi successfully, without the error seen previously.