Installing Divi Booster
To install Divi Booster first download it using the link in your purchase confirmation email, then do the following:
In your WordPress Dashboard go to "Plugins > Add New"
Select "Upload Plugin"
Click "Choose File" and locate the Divi Booster plugin .zip file on your computer
Click "Install Now"
Click "Activate Plugin"
That's it, the Divi Booster plugin should now be installed on your site.
Activating you License Key
After purchasing, you should be provided with a license key. The license key must be entered to enable the plugin update functionality. You can find your license key on the purchase confirmation screen, or the from within your Divi Booster account by clicking on the "View Details and Downloads" link next to your purchase. The license key can be found as shown: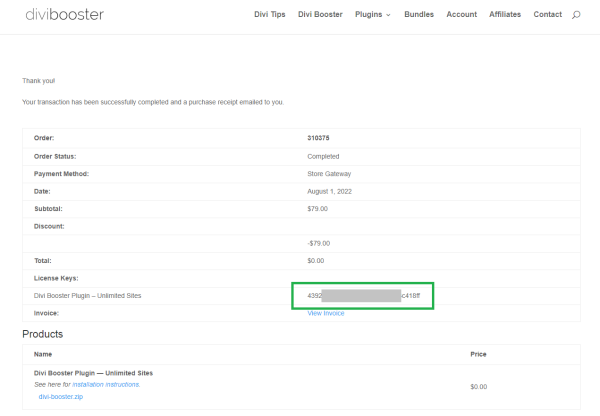 Now, on your site, go to:
WP Dashboard > Settings > Divi Booster
And enter your license key as shown: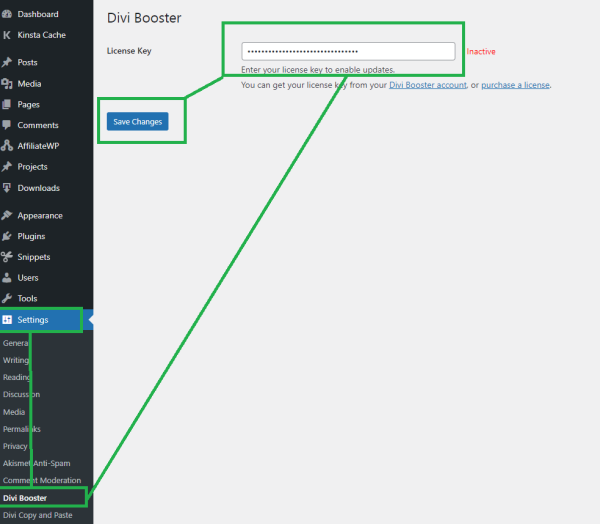 Click "Save Changes" and if everything has worked as expected, you should now see that your license key is marked as "active":

This means the license has been successfully activated and the plugin will now fully functional and will receive future updates via the normal WordPress plugins page / update system.
Setting up Divi Booster
Now to setup the plugin:
In your WordPress Dashboard go to "Divi > Divi Booster"
On the same page, click the section headings to expand and select the configuration options you want to apply to Divi.
Click "Save Changes"
If you visit your site you should see the changes to your Divi Theme.
Divi Booster also adds additional options directly into the module settings menu for individual Divi modules. You can configure these options as you work on the individual modules.
Troubleshooting
Error: Installation Failed: Could Not Create Directory.
If you receive this error during installation, it is likely that the file permissions are incorrectly set on the server. This prevents WordPress from creating the Divi Booster plugin folder. To solve this error see this post.