The Divi theme includes a feature for creating page templates with custom headers, footer and / or  layouts, known as the Divi theme builder. If you are trying to disable a custom header built using the Divi theme builder, but are unable to restore the default Divi header, here's a possible explanation
The Theme Builder is Disabled, but not Deleted
You might notice that, in addition to the default Divi header not displaying, the Header and Navigation theme customizer section is missing. This customizer section only applies to the default Divi header and is hidden by Divi when a custom theme builder header is used.
The missing default header / customizer options problem can occur if you disable the theme builder header within the customizer, like so: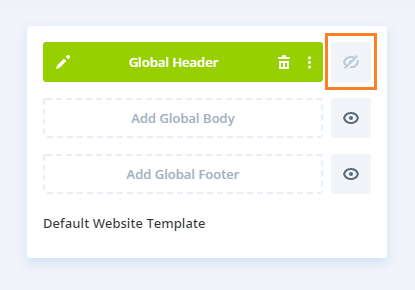 When you disable the header within the theme builder like this, it only hides the theme builder header – it doesn't restore the default Divi header. And because the default Divi header isn't active the "Header and Navigation" options are hidden from the customizer (since they only apply to the default header, not theme builder headers).
To restore the default header you need to actually delete the header from the theme builder (i.e. using the "trash can" icon shown in the screenshot above). If you want to keep your header for future use you can save it to the library before deleting. Once deleted, the default Divi header should be restored and the customizer options should be back.