The Divi Theme's image modules come with the option opening the image in a lightbox. That is, when you set the image module's "Image Settings > Content > Link > Open in Lightbox" option to "Yes", your users can click on your image it will be enlarged and displayed in the center of the screen. By default, there is not text displayed with the image, but if you want to show a description of the image below this enlarged "lightbox" view of the image, here's how.
Display the Image Alt Text below the Lightbox Image
In HTML the "alternative text" for an image is the text displayed when the image can't be shown (e.g. the user is using a screen reader, or the image file is missing). However, Divi repurposes the alternative text as a way to show a title / description below the image when opened in a lightbox.
You can set the alternative text for the image at "Image Settings > Advanced > Attributes > Image Alternative Text", like so: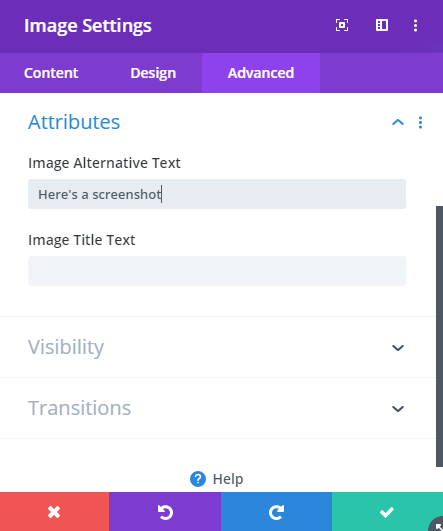 Now when you click on the image, to open it in a lightbox you should see the text displayed, like so: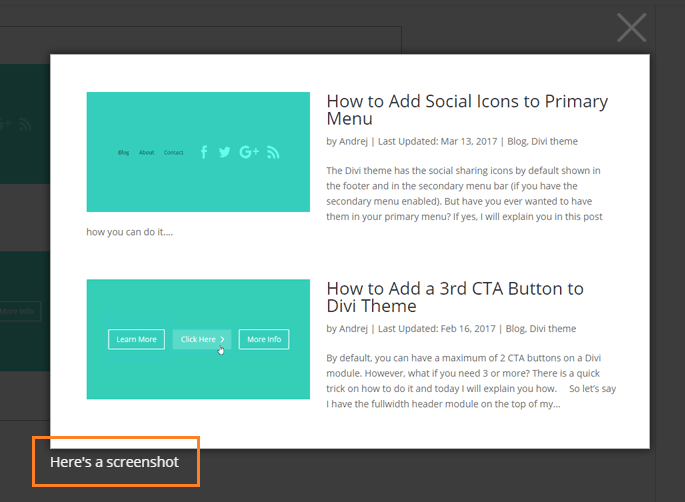 Display the Image Title Text below the Lightbox Image
As mentioned above, the Image Alt Text has other purposes which may mean you want to set the lightbox description differently from the actual alt attribute set on the image element.
In this case, another option is to use the Image Title Text field for the lightbox text. Normally the Image Title Text is displayed as a tooltip when the user hovers over the image. You can change it to instead be used for the lightbox text by adding the following jQuery code to your site:
<script>
jQuery(function($) {
	$('.et_pb_module.et_pb_image a.et_pb_lightbox_image').each(
		function(){
			var $link = $(this);
			var $img = $link.find('img');
			$link.prop('title', $img.prop('title'));
			$img.prop('title', '');
		}
	);
});
</script>
Now you can configure the image module as follows: